Give the gift that won't break or wear out:


MUSIC LESSONS
​
One month of lessons for $195
(4 lessons at $160 + $35 registration fee)
or
Two months for $320
(8 lessons at $320 + FREE Registration)

Call us or text us at: 408-286-8828
or Email: info@SanJoseSchoolofMusic.com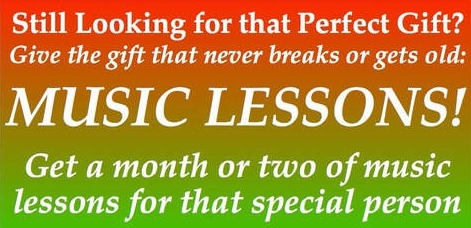 CLICK HERE TO PURCHASE A GIFT CARD
It's easy to take the next step!
Music lessons are first come, first served So contact us today to arrange your first lesson!
Call us at 408-286-8828
PIANO LESSONS
Our piano teachers teach a variety of styles from classical to popular music. Whether you want to learn a classical sonatina, rock chords, or popular sheet music, our teachers are happy to help you become the pianist you want to be. Our piano faculty will show you the fundamentals of sight reading, technique and theory, but they will also incorporate your favorite songs into your lessons. Our piano teachers have warm personalities and enjoy sharing their love for the piano with you.
It is ideal if you do have a piano at home, but you can start lessons with our piano teachers by using an electric keyboard to practice on. Most of our students rent or buy small electric keyboards practice on at home. We recommend a keyboard that has regular sized keys and a touch sensitive response. A touch sensitive keyboard means if you press a key harder it will play louder and if you press a key softer it will play quieter.

GUITAR, BASS, MANDOLIN, UKULELE, BANJO LESSONS
Our guitar teachers teach rock, blues, metal, country and classical guitar lessons on electric and acoustic guitars. Beginner students can expect to work on chords, simple songs and melodies, sight reading, and theory. We balance musicianship and fun by making sure that each lesson you are challenged with a new technical or theory concept, but always end with something fun such as your favorite riff or song. We use a variety of guitar method books to accomplish this and encourage students to bring CDs or their iPod to their lesson to learn their favorite tunes. Our teachers can even help you with guitar repair: such as the set up of your guitar or replacing your strings!

VOICE LESSONS
Our private voice teachers primarily focus on popular music and musical theatre songs. If you have always wanted to be a better rock, pop, country, jazz, gospel, theatre, or R&B singer, then we have the right voice teachers for you! Voice students spend time each week doing physical exercises to improve their vocal range, ear training, breath control, vibrato, tone production, enunciation and more. All voice students set goals with their teacher to work on sounding like their favorite recording artists, preparing for a theatre audition, or if they prefer, to develop their own unique voice. ​

DRUM LESSONS
Our drum instructors will teach rock, metal, jazz, funk, blues and many other styles. Drum language can be complex and our instructors will challenge any drummer with a wide variety of technical exercises designed to improve your speed and comfort. All drummers may bring in their favorite drum parts to learn in their lessons and theory is encouraged. You do not have to purchase a drum kit to take lessons. Beginning students can learn with a drum pad and sticks for about $40.00. Students use our drum set at their lessons and do not have to bring anything except their drum sticks and a notebook. We also offer Percussion Lessons, which is a wonderful addition to any school band program, rock band, or worship band.
VIOLIN and VIOLA and CELLO LESSONS


Our string instructors will teach all styles of music, from learning to play by ear to reading music. If you want to play classical music or the fiddle, we have a teacher for you. Students can be as young as 5 years old, or younger with the teacher's approval. Our students love learning the fundamentals, as well as incorporating your favorite songs into their lessons. Our violin teachers have friendly personalities and love working with children and teens and adults!

​Rates: $42.50 per 30 minute private lesson held once a week.
All Lessons are held once a week, at the same day and time.
There is a one-time registration fee of $35.00 per student.
All fees must be paid by pre-authorized debit or credit cards.